Body Therapies englobes a range of allied health professions. Instead of relying on drugs or operation, treatment of disease, injury, or deformity is by means of physical methods like exercise, massage or acupuncture. Here you emerge to establish a mental awareness of your physique's different body parts, thereby inducing relaxation and improving overall well-being.
There is this wondrous machine which is the medium of our life – our body. Let's admit it … we sadly take it for granted. We use and abuse our bodies through over exertion like trying to push it harder on the treadmill, or overcharging our digestive systems with junk food, or gulping too many cups of coffee, one too many nights at the pub, smoking heavily… you get the idea? Our body starts ringing the alarm bells softly at the beginning to signal its displeasure with our indifference to its well-being, signs that we overlook or for the fear of getting bad news choose to ignore. Those aches and pains will get louder, until you have no option but to bring your cranky self to a medic.
Whether the visit to the doctor results in your needing medicines/treatment or not, the truth is that just as your car – a different kind of machine – needs regular servicing to be functioning tip top, similarly your body needs some upkeep. To retain your vitality, to keep you in a state of ease, free of dis-ease, for you to continue to enjoy life. And how do you do this? Through Body Therapies.
And aren't you lucky…you have options to choose from. Not one, not two, but many!
Types
Before we start exploring in detail know that a common thread runs through all these therapies – a hands-on body contact to release built-up body tension, anxiety and reduce pain. For many of the therapies you can joyfully take on a lazy comfortable position of lying on your stomach with your back bare. All the while you remain immobile, soft breezy music playing, aromas, or essential oils wafting all help you mentally get into the mood letting go of your worries while expert hands work their magic on your body.
Massages: Let's begin with something you might already know a little bit about through friends who've done it, or you might have tried it yourself…massages. Yes, those wonderful minutes spent in bliss as your body's soft tissues were manipulated by a practitioner. Whether it is Swedish Massage, or Shiatsu, Indian Head Massage, Thai Massage, Sports Massage, Manual Lymphatic Drainage, Reflexology or Aroma Therapy Massage, they all work upon your skin, ligaments, muscles and tendons by pressing and rubbing. Depending on the massage genre, the practitioner employs short or long strokes, tapping or kneading with their fists, and deep circular movements to get rid of the underlying tension causing pains and thereby releasing anxiety. Massages can also be done for recreational purpose as it often produces feelings of loving one's body, being comfortable in one's body and connection to one's self.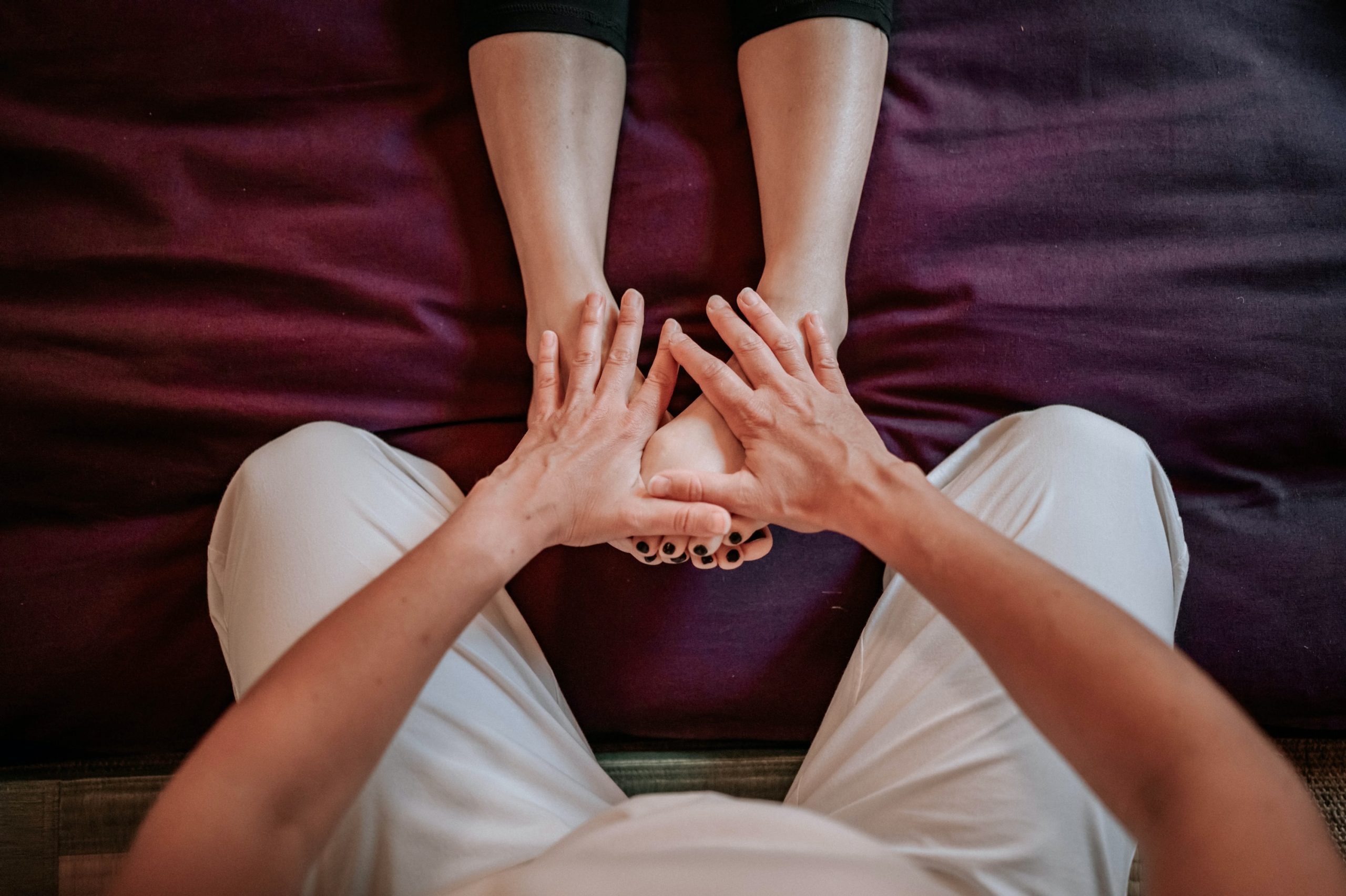 Acupuncture: A frightful looking family member of body therapies, which does a load of good to you is Acupuncture. Ancient traditional Chinese wisdom says that our overall physical health is determined by the free flow of energy called Qi (pronounced as "Chee"). Interrupt the course of this Qi and you may develop a malady. But you don't necessarily need to get to the stage of disease, because the meridians through which the Qi passes can be reactivated through acupuncture.
Yes…brace yourself…your inner Qi is accessed via teeny-tiny needles piercing your skin which the practitioner enlivens through delicate targeted strokes or mild electrical stimulation. Reaching the Qi is not difficult because we have more than 2,000+ acupuncture points.
And no…the needles don't hurt…they are as thin as your hair. The sterilised needles could also be slightly heated when used and they are inserted to a level where you might feel a pressure, tingling sensation, heat, cold, heaviness or an ache. The good news, apart from restoring your health of course, is that your acupuncture points can also be invigorated without needle through pressure (acupressure), heat, friction, suction (cupping) or impulses of electromagnetic energy.
Like massages, this is a very old practice – almost 3000 years – and your practitioners definitely know what they are doing with those pointed stuff or electrical stimulants. All the more so because it takes three years to become a qualified acupuncturist in the UK.
Osteopathy, chiropractics or physiotherapy: the practitioners of these group of body therapies are part of mainstream medical professionals. Usually they are trained doctors with more schooling than others alternative therapists like naturopaths, typically 3 to 5 years. These remedies do not need a pill box. They are non-intrusive methods of healing that works on your neuro-musculoskeletal structure – the bones, the joints, the nerves, the spine, the muscles, to improving your well-being. So no needles and no other prickly pointed stuff.
These therapies are traditionally a form of 'manual medicine' where both the diagnosis and the treatment is done by hand. What happens in your first appointment is quite similar to any regular doctor's consultation where you describe your symptoms, pain points and medical history. The next similar step is that of physical examination with the difference being that your osteopath, chiropractor or physiotherapist will use their hands and not a stethoscope. They'll probably pat, stroke, rub or knock on your body, especially the spine to identify weak spots, unusual tenderness or tension. In order for the practitioner to get a better look at the problem area, you might need to undress a bit. They might also ask you to do a couple of body movements. Like any session with health care provider, the practitioner will next walk you through the coming steps, and possible physical sensations you might face during and after treatment.
What follows is what you must be recognising as similar pattern in body therapies – you lapse into a composed physical state, while an expert does your body maintenance. Your rigid joints are masterly rotated or moved around and also pulled at to help you regain some of your flexibility. Your bones might crack as the practitioner goes about her/his work, particularly on the spine when they use rapid short thrusts.
The techniques used in osteopathy and chiropractics are the same but there is a major difference between the two. So while the chiropractor focuses their attention just on the joints and the spine, the osteopath's world is more broad, looking at the whole body. Depending on the ailment being targeted, both therapies are very useful remedies.
Physiotherapy though also requires us to do repetitive exercises, use some gym tools for muscle strengthening and resistance building via resistance bands to address the problem area of the body.
Craniosacral therapy is a branch of osteopathy that focuses solely on the crania-sacral system – the cranium, the spine and the fluids and membranes protecting the central nervous system. Disruptions to the blood and cerebrospinal fluid flow within the craniosacral system are common among the unfortunate few with traumatic brain injury, or concussions or nervous system disorders. Especially them but also others can greatly benefit from the course correction offered by a craniosacral therapist who locates and removes the toxins from the body restoring the blood vessel supply and cerebrospinal fluid flow. Much like the idea of the free flow of Qi earlier. By releasing restrictions in the underlying tissue, this therapy also nourishes your neurones. It's a form of physical rehabilitation starting from the basic level, with positive domino effects on your emotional and spiritual spirits.
A typical outing with the craniosacral therapist begins with a quick body scan to discern the location of restrictions or tensed-up areas in you. You are usually fully clothed during this therapy. By applying a gentle touch, the therapist toils on various interest points on your body. They either fix their hands in one spot and press lightly or they delicately apply pressure in a particular direction. You may feel a surge of heat when a tension is released, as if a pressure cooker has let off steam. Once the steam is all out, you feel relaxed and rejuvenated.
Know that no two therapists, irrespective of the discipline, work the same way. Each have their own unique styles and tricks in their hands. Their common umbrella is the holistic approach, acknowledging that your whole self should be addressed in to order to get you to optimal health. Most body therapists have experience treating a wide array of patients with various ailments. Normally they will offer explanations about their approach and technique, and give you a chance to ask questions before offering treatment. You might feel tired or be in slight pain after treatment before improvements are felt. This is considered part of the body's healing process.
The important thing to remember is to be with a practitioner that gels with you. This alone plays an important part in your therapeutic journey.
Body Wellness
At the end day of the day, what all these therapies means is that happily for us, we don't have just one allopathic solution to our angst, pain, and fatigue, like in the heydays – we have aplenty. Since these Body Therapies have breached the fortified walls of modern medicine, and they are now being offered as part of mainstream treatment for a wider range of medical conditions – from chronic diseases to anxiety. See them not as a replacement of regular medical care, but rather as complementary answers to your health problems.
What this means is that you don't have to put up with your back pain if medicines are not helping enough. Holistic care is looking at the body via physical, emotional, mental and spiritual lenses. Cancer patients on chemotherapy don't necessarily have to settle with their extreme fatigue and physical discomfort, they can make use of alternative therapies to improve their quality of life. Your anxiety can be dealt with in a myriad of other ways.
What unites all these treatments apart from their efficacy in relieving specific physical ailments as well as stress and anxiety is their mind-body reintegration. All of them, help us to mentally realise the oft forgotten contours of our bodies, their limitations, their weak and strong points, and the need to love it and cherish it. We emerge better connected with the temple of our soul – our bodies.